We have recently created Cotteswold as a brand in its own entirety due to the increasing number of dairy products we produce. Cotteswold Dairy has been producing milk and cream since 1938 but over the years we have increased this range. We have redesigned our labels to ensure customers recognise where the milk is from and offer conventional milk, Organic and Free Range.
We work with local farmers within a 30 mile radius to produce Fresh British Pasteurised milk.
Milk –
• Channel Island • Whole • Semi-Skimmed • Skimmed
Cream -
• Double • Single • Whipping
We work closely with local organic dairy farmers to ensure this milk is produced from cows raised and fed according to strict organic standards.
Organic Milk -
• Organic Whole • Organic Semi-Skimmed • Organic Skimmed
Organic Cream –
• Organic Double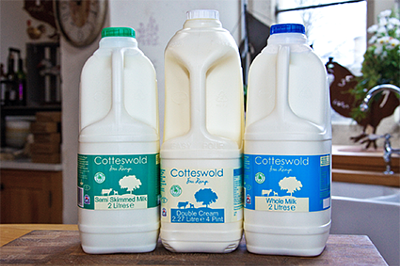 Cotteswolds free range milk carries the pasture promise logo which means it only comes from our local dairy farms where cows are given the freedom to graze for at least 180 days of the year. Learn more about Free Range Milk from BBC's Countryfile from April 2016.
Milk -
• Free Range Whole • Free Range Semi-Skimmed
Cream –
• Free Range Double